Final refusal: A growing population of invisibles
There is a growing number of asylum seekers in Europe who have been refused asylum. Deportations and voluntary returns are not keeping pace, so where do these people go?
Hiding behind closed doors in Sweden
Mohammed, from Iraq, now lives in Malmo, the third largest city in Sweden and 'the nineteenth Iraqi province' according to some migrants. He has been given one week to leave Sweden but he tells me, "I learned Swedish. I have been here two years now. I am not going anywhere."
Once known as the most welcoming country in Europe, Sweden ended its open-door policy in November 2015 and in April 2016 the country's Social Democrat government approved a more restrictive law on asylum. The turn in policy came just as anti-refugee rhetoric was heating up across Europe. And while it's been framed by many as a purely political move, officials say the decision was a financial one, citing the cost of processing and housing asylum seekers.
Asylum seekers who have received a final rejection on their application are no longer entitled to accommodation or other services. They are given two options: leave the country voluntarily, or be deported. But most take a third option: go in to hiding.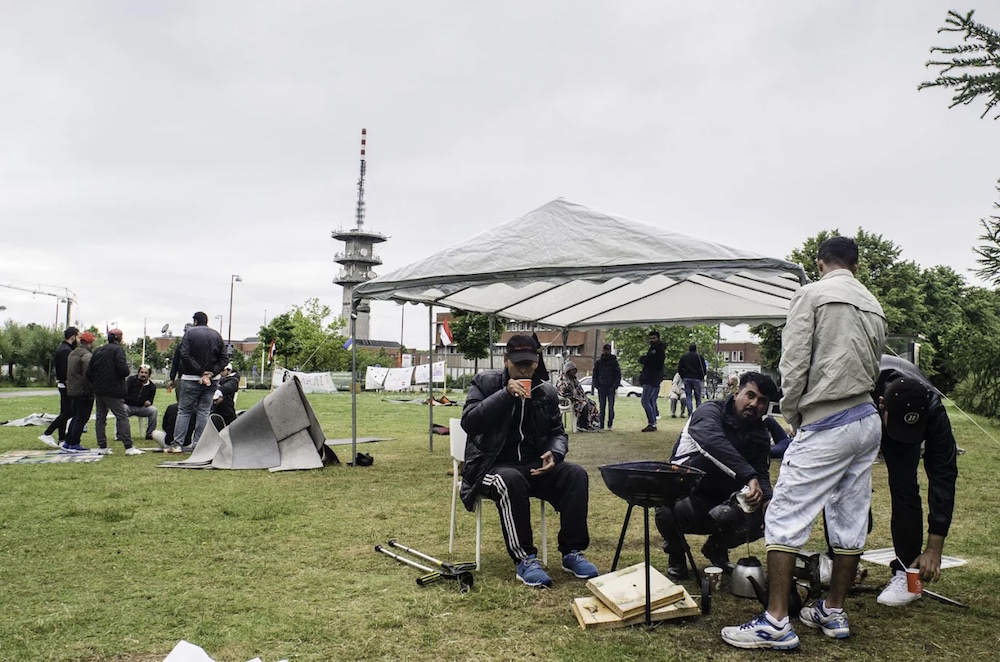 Mohammed drives to the local bureau of the Swedish Migration Agency where around twenty Iraqis have been sleeping outside the office under a tent for about a month. Sitting under the tent, we met Marwan. He is around 35 years old and comes from Kirkuk in Iraq. He now lives in Alvesta, a small town one hour outside Malmo. He's been living in Sweden undocumented for the past six years, after his asylum request was turned down.
I know people who have been in hiding for 12 years. They live in a parallel society.
"When the negative decision arrived, I just didn't show up to (the Migration Agency Office). I never thought about leaving. I speak Swedish now, and I cannot go back home," Marwan says.
Some friends helped Marwan find a work as a mechanic but he tells me, "I have no house, no contract, sometime I have to work for 100 Krona (€10) a day. I live under stress, I do not think about tomorrow."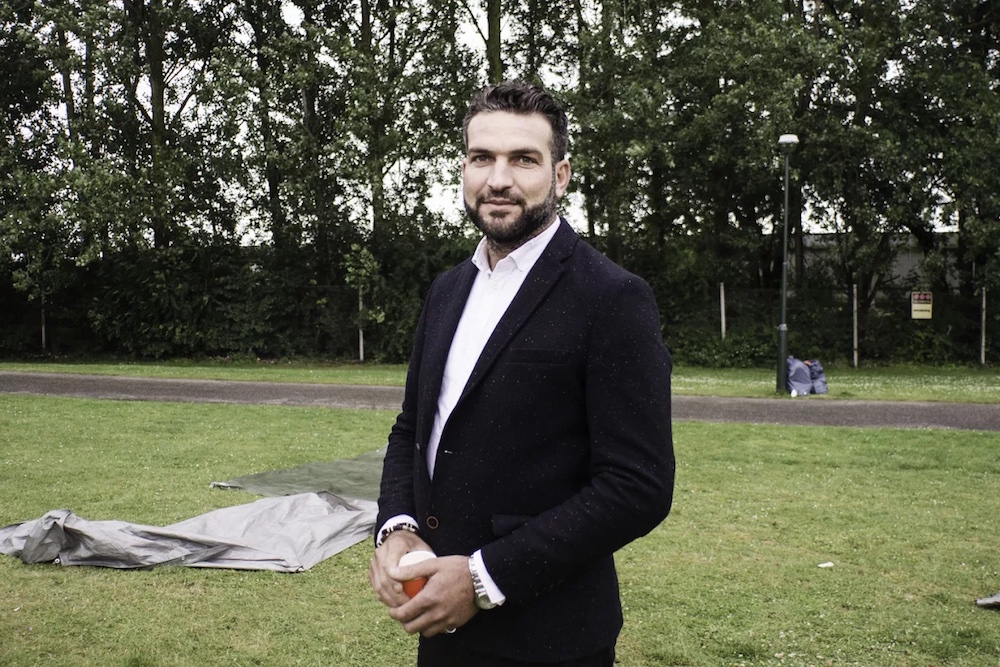 According to Swedish law, four years after an asylum application is rejected an asylum seeker may file a new request. And this is why Marwan is under the tent outside the Migration Office today. "Now I wait," he tells me.
"I know people who have been in hiding for 12 years. They live in a parallel society," Marwan's story is a familiar one to George Joseph, who has been working for Caritas Sweden for the past 30 years. He says the number of undocumented migrants living in Sweden was previously quite stable, "but now with the increase of asylum application and lower rate of asylum recognition, it might increase," he says, "my estimation is that 10,000 to 15,000 people live undocumented in Sweden."
Refused but tolerated in Germany
"If you let them kill your dreams, you will die," Valentine tells me as he watches over a young man fixing a computer, "This is why I insist he continues his voluntary work."
Valentine, 45 years old, is from Cameroon. "When I arrived in Germany it was 1998. Kids in the street were touching my skin because most of them had never seen a person of color before," he says. His asylum request back in 1998 was refused and he spent ten years in hiding. He was finally granted residency in 2009, when his first child was born.
"I was under constant stress. I was in hell for ten years. If you do not have a strong mind, you will break," he says.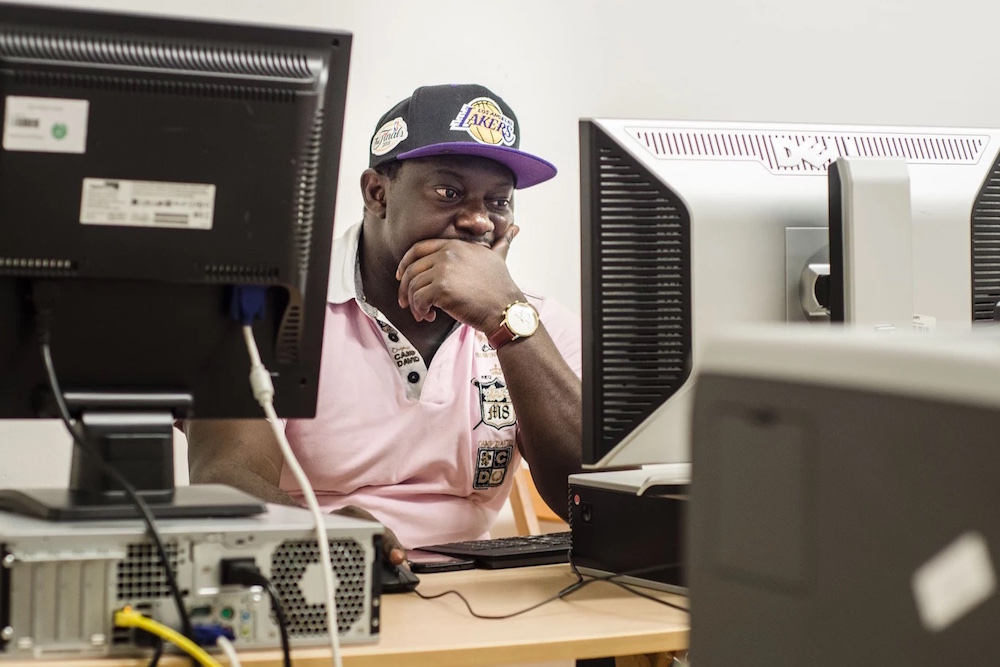 I spoke with Valentine in the small office of Refugees Emancipation in Marzah, a suburb in East Berlin. The young man fixing the computer is David, a 25 year old also from Cameroon. In his home country, David was an IT engineer and online activist. During Cameroon's elections in 2011 he created a website supporting the People's Action Party. David became a political target and on Election Day, he was stabbed at a polling station. He currently lives in a shelter in Potsdam.
In May, his application for asylum in Germany was officially refused. Now David is in hiding. But following Valentine's advice, David runs an internet café inside Refugees Emancipation office and provides training to asylum-seekers. He admits it's hard to see people around him have their application for asylum approved. "I have the right to be here," he insists. And just like Mohammed, David tells me, "I am not going anywhere."
…many of the migrants whose applications are getting rejected come from countries refusing to take back their nationals, or countries with precarious security situations
In the wake of the Berlin attack in 2016 when a failed asylum seeker from Tunisia deliberately drove a truck in to a crowded Christmas market, the German government is under pressure to speed up the return of failed asylum seekers. In 2016 it deported 25,000 refused asylum seekers (up from 21,000 in 2015) and another 55,000 returned home voluntarily. In the past two years, many deportations have been focused on people from Western Balkan countries. But now many of the migrants whose applications are getting rejected come from countries refusing to take back their nationals, or countries with precarious security situations.
While Sweden has been firm in its policy to cut support to asylum seekers once their application is refused, Germany has taken a different approach. After a final refusal, a person can apply for a 'Duldung' – literally translated to 'Tolerance.' The Duldung provides "temporary suspension of deportation" but it is not a residence permit; freedom of movement is restricted and there are no rights to work under a Duldung.
In a parliamentary inquiry from Die Linke (the Left Party), the government revealed that as of the end of June 2016, there were 549,209 people living in Germany who had had their asylum application rejected. About three quarters of them had been living in Germany for at least six years. And 168,212 people reportedly live as "tolerated" immigrants after being granted a Duldung.
An invisible workforce in Italy
Undocumented migration is a well-established phenomenon in Italy. Up to ten years ago most of the irregular residing migrants came on a temporary working permit or a tourist visa, overstayed their visa and became undocumented.
The small town of Saluzzo, just outside Turin has become the most popular destination in Northern Italy for migrants looking for a seasonal job in the fields. Living conditions there are harsh and people sleep in the streets.
In 2016, routine police efforts found a total of 38,284 undocumented migrants. No action was taken for at least 21,000 cases because Italy has no readmission agreement with most of the countries these undocumented migrants are from, like Gambia, Ghana or Ivory Coast.
We expect to find them working in the fields, possibly in Saluzzo.
I spoke with Anna Bertrand, a social worker in Turin, Northern Italy and one of the founders of 'Senza Asilo' network, which translates to 'Without Asylum.' Senza Asilo estimates 50,000 people live undocumented and open to exploitation in Italy.
Bertrand says in some cases, asylum seekers are supported by an employer who has offered to hire them under a fixed contract. "Nevertheless they were rejected, becoming illegal," she says, "We expect to find them working in the fields."
Following what appears to be a European trend, the Italian government recently approved a more restrictive law on asylum. Last year the country received 123,000 asylum requests and according to the current rejection rate, roughly half will be rejected. Bertrand wonders what happens to asylum seekers when they leave the reception center, "Where do they go afterwards?" she asks.